FOR IMMEDIATE RELEASE
Local Victoria Tech Company Contributes to UV Disinfectant Options Against Covid-19
SunTracker Technologies (Victoria, Canada) is a global leader in the development of lighting design software, having licensed its award-winning OEM software for use in such products as Lighting Analysts' AGi32 and ElumTools (Boulder, CO) and Glamox AS (Molde, Norway) for their OptiWin 3D Pro architectural and marine lighting design software, with over 20,000 users.
Medical experts in the field of infectious diseases and photobiology understand the benefits and risks of ultraviolet radiation exposure, however, they do not fully understand the engineering aspects of designing effective and safe ultraviolet disinfection systems.
As a world leader in architectural lighting design software, SunTracker Technologies understands both the medical issues and the design requirements for modeling safe and effective ultraviolet disinfection systems. SunTracker is directly involved with the Illuminating Engineering Society in developing guidance for the public on the issues of ultraviolet disinfection (https://www.ies.org/standards/committee-reports/).
With four decades of experience, SunTracker's Senior Scientist, Ian Ashdown,P. Eng. (Ret.) FIES is a lighting research scientist and engineer who knows how to realistically model and assess whether a consumer product is safe.
SunTracker is currently developing lighting design software specifically for ultraviolet disinfection systems (both static and mobile). This software will enable professional lighting designers and electrical engineers to work with mechanical engineers in designing and assessing the effectiveness and safety of new or retrofitted ultraviolet disinfection system that will make public spaces and surfaces safer from contaminants. Included spaces are hospitals and healthcare facilities, hotel and bank lobbies, restaurants, movie theatres and playhouses, sports facilities, airport lounges, airplanes, cruise ships and other modes of transportation, and anywhere else where there are public gatherings in enclosed spaces.
SunTracker is committed to developing effective and safe engineering solutions for the current Covid -19 crisis, while at the same time countering the onslaught of misinformation regarding ineffective and sometimes dangerous ultraviolet disinfection technology that is being promoted online and in the media.
SunTracker's Senior Scientist, Ian Ashdown is available for interviews by telephone or e-mail to discuss further details of this story.
For all Media Inquiries and to arrange an interview, please contact Shirley Lang, VP Communications & Marketing at 250-893-3645 or shirl.lang@suntrackertech.com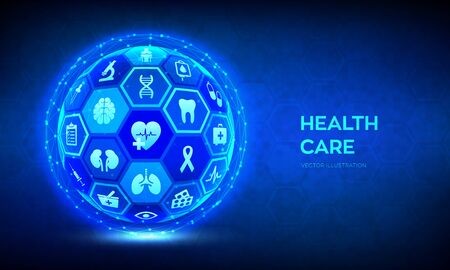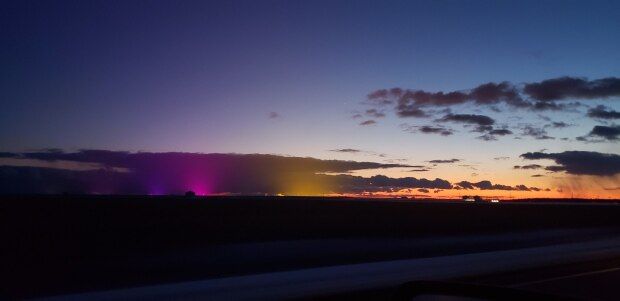 VICTORIA, CANADA (May 21st, 2020) – SunTracker Technologies is pleased to announce that it has developed a web-based free to use online calculator to predict monthly DLI values for anywhere in the world, based on climate-based Typical Meteorological Year (TMY) weather records from over 2,100 weather stations worldwide.
The Daily Light Integral (DLI) is a relatively new metric for farmers and greenhouse operators trying to decide whether crops will thrive in a given geographic location. It takes into consideration historical weather records that have recorded hourly direct sunlight and diffuse daylight for a minimum of thirty years, and from these calculates the monthly photosynthetically active radiation (PAR) available to field crops.
Previously monthly DLI values had only been calculated and published for the United States. SunTracker's DLI Calculatorperforms these calculations for any location on the world using weather records from around the world.
Monthly DLI values are also important for greenhouse operators, however the PAR values inside greenhouses can be considerably less than in the field, and further depend critically on the greenhouse orientation, roof design, glazing properties, and shade covers. SunTracker Technologies is developing Cerise365+GreenhouseDesigner™, a web based greenhouse lighting design software to address these critical issues.
About SunTracker Technologies
SunTracker Technologies (Victoria, Canada) is a world leader in the development of lighting design software. Having licensed its award-winning OEM software for use in such products as Lighting Analysts' AGi32 and ElumTools (Boulder, CO) for architectural and roadway lighting design for over two decades, SunTracker is preparing to release its web-based Cerise365 + Greenhouse Designer™ software product for greenhouse and vertical farm lighting design, including climate-based daylighting.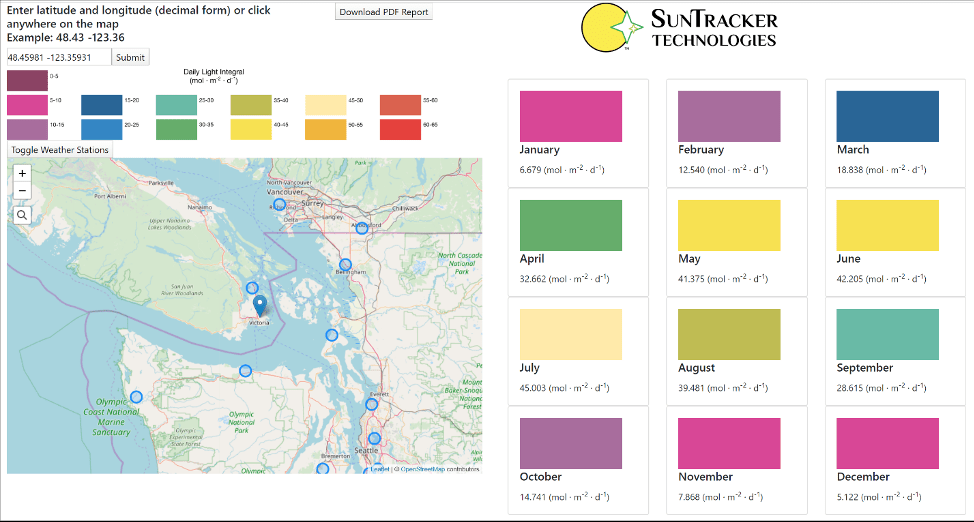 Our Food Security:
Recent public health events have highlighted the need for food security in local communities. In northern (and less hospitable) climates like Canada long term, year round food growth will depend on indoor facilities such as greenhouses, vertical farms (plant factories), and hybrid facilities. Proper lighting is critical for these facilities to successfully produce the necessary quality and quantity of food to sustain the population at a reasonable cost. SunTracker has developed CAD modelling tools to allow the horticultural industry to assess and specify the most efficient and effective commercial lighting for the horticulture industry, lighting that is critical for the sustainability of food security.
SunTracker Technologies Volunteers Expertise to Combat Light Pollution
Victoria, BC, April 17, 2020 – SunTracker Technologies' Senior Scientist Ian Ashdown has been involved in the global issue of light pollution that affects our environment and the human condition for over thirty years.
While the International Dark-Sky Association (IDA) and the Illuminating Engineering Society (IES) have published numerous reports and standards aimed at reducing light pollution around the world, Ashdown has focused on mathematical modeling of the causes of light pollution. As he puts it, "Unless you can quantify a problem, you will never have confidence in your proposed solutions."
On April 16th, 2020, the IDA and IES announced a strategic collaboration to advance quality lighting to reduce light pollution. SunTracker's volunteer contribution to this effort has been to analyze the spectral properties of several thousand different light sources provided by Pacific Northwest National Laboratory (PNNL) and compare the performance of light pollution metrics that have been proposed by astronomers, ecologists, and lighting researchers around the world.
Related to this, Ashdown is the Vice Chair of the IES Sky Glow Calculation Committee and a member of CIE Technical Committee 4-58, Obtrusive Light from Colourful and Dynamic Lighting and its Limitation. He has previously studied, written about, and presented seminars on astronomical, ecological, and botanical light pollution issues. His latest effort, a review and analysis of ecological light pollution from commercial greenhouses, is scheduled to be published in the June-July issue of Maximum Yield magazine.
"Light pollution issues may seem somewhat removed from SunTracker's focus on architectural and horticultural lighting design software," he says, "but it is not. We live in an interconnected world, and light pollution is one of society's aggrievances upon the planet. It is our corporate responsibility to lend our expertise towards finding viable solutions."
About SunTracker Technologies: Established in 2011, SunTracker develops and licenses fast and accurate software tools to plan lighting needs and photorealistic renderings for the architectural design, horticulture, entertainment, and healthcare lighting industries. Learn more at www.suntrackertech.com and www.allthingslighting.org.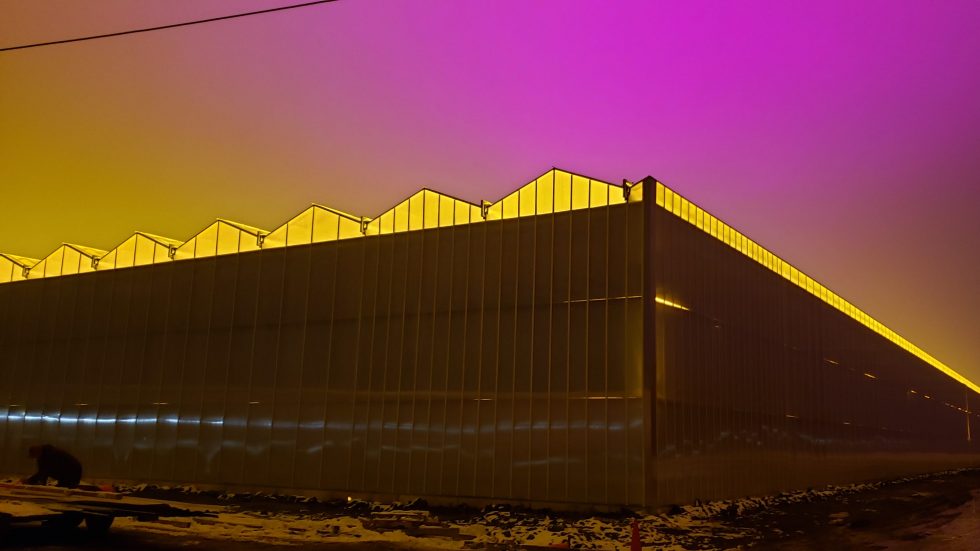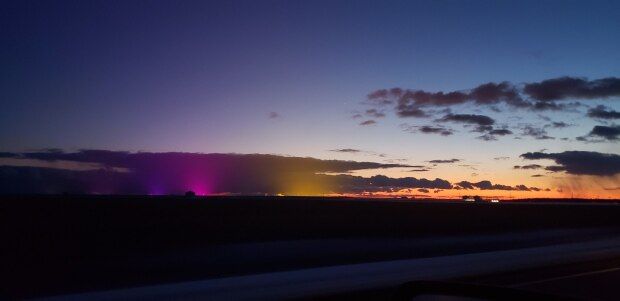 COVID-19 – A Message from SunTracker
The novel Coronavirus COVID-19, the associated health of friends and family is at the forefront of everyone's thoughts at this time. We are taking efforts to protect our clients, research partners, and our team. Our goal is to ensure a healthy environment for all. As such, our team will continue to work remotely to serve our clients and research partners virtually, and we will continue to operate online and through other media. Technical support will be unchanged as we adopt to the realities of increased self isolation and potential quarantine. You may continue to contact us through email and telephone, and we will respond accordingly.
If you have questions please contact our VP Communications and Marketing:

Don't go away without exploring  
SunTracker's Senior Scientist, Ian Ashdown's